The Prostate & CANCER Diagnosis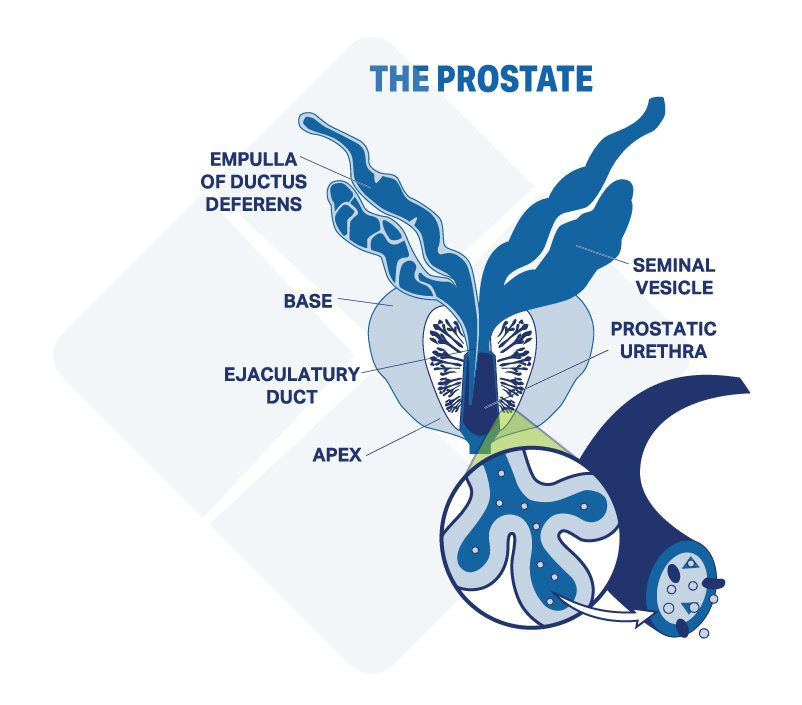 WHAT IS THE PROSTATE?
The prostate is a small gland about the size and shape of a walnut. It is located under the bladder, in front of the rectum, and surrounds part of the urethra (the tube that empties urine from the bladder).
If the prostate grows too large, the flow of urine can be slowed or stopped. The prostate makes, stores, and secretes fluid that forms part of the semen in which sperm are transported.
Cancer is uncontrolled growth of abnormal cells. The body is made of billions of cells (like building blocks). The cells are replaced over time by dividing and forming new healthy cells. This is done in an organized and controlled fashion. If a cell changes and becomes abnormal (mutates), the control and organization is lost, and the cells grow rapidly, forming a growth (tumor). These growths may be benign (not cancerous), or malignant (cancer).
Benign growths in the prostate (Benign Prostatic Hyperplasia) cause the gland to swell, which compresses the water passage (urethra), making it difficult to urinate. These changes are common in older men, but are not life threatening.
A malignant tumor (cancer) invades and destroys surrounding tissue. These cancer cells can also spread to other parts of the body (metastasize), where they grow and form new tumors.
Prostate cancer is the leading form of cancer diagnosed in Canadian men. If diagnosed early, prostate cancer is treatable. Even when the disease is advanced, treatment can eradicate symptoms and prolong survival.
Survival rates for prostate cancer have been improving for the last four years, perhaps due to the importance that is placed on early detection.
LEARN MORE
ABOUT THE PROSTATE AND PROSTATE CANCER
RISK FACTORS
There are some factors that increase the risk of prostate cancer:
Prostate cancer risk increases as men age.

A family history of prostate cancer increases the risk depending on the relationship to a relative with the disease. Men with prostate cancer should encourage their sons over the age of 40 to get checked.

Higher in black males than in Caucasians and Asians. It is also lower in those who follow an Asian rather than a Western diet.

High fat diet.
Many men who develop prostate cancer have none of these risk factors.
SYMPTOMS
Prostate cancer does not usually cause any symptoms in its early stages.
More advanced cancers may cause symptoms due to invasion in the area of the prostate, causing problems with bleeding and/or urination or inability to urinate. These symptoms are most common with benign enlargement of the prostate, and should not be confused with cancer. If the cancer spreads, it usually invades the bone. This may cause bone pain, most commonly in the lower back and pelvis.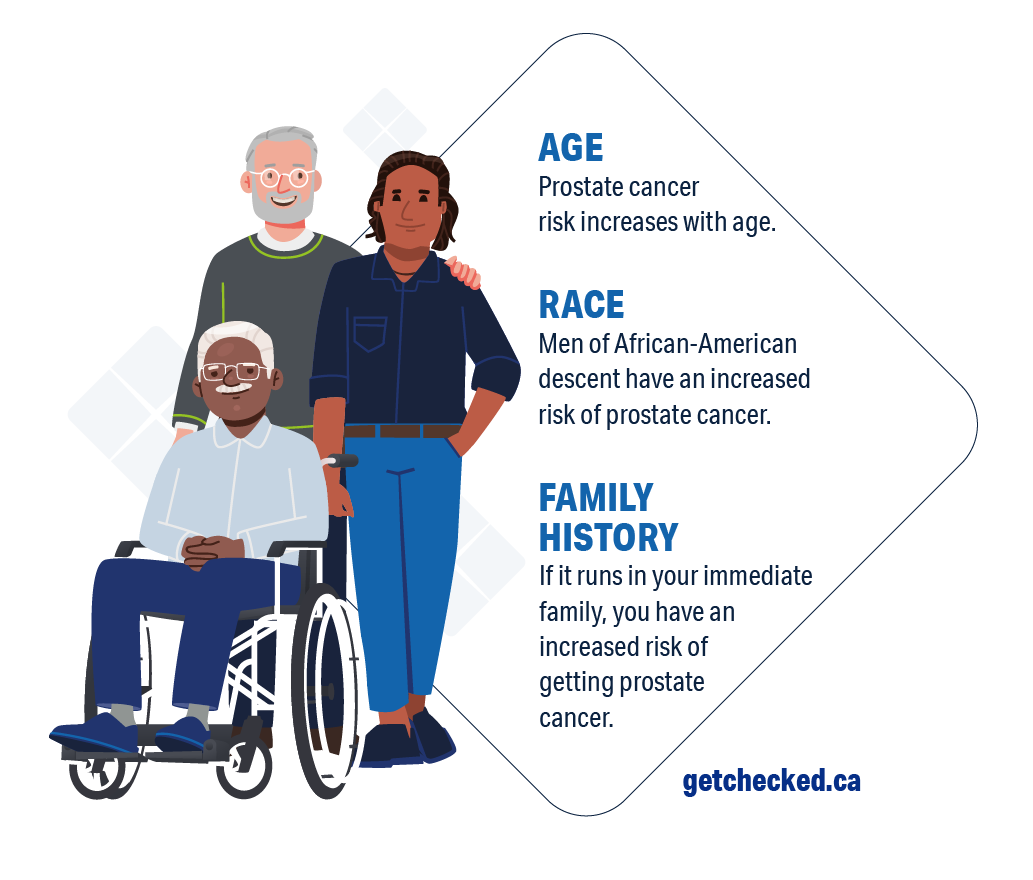 SCREENING
Prostate Specific Antigen (PSA) is a protein made by the prostate. PSA is mostly found in semen, but can also be found in blood. A PSA test is a blood test that checks your PSA level.
High PSA levels provide a clue that a man may have prostate cancer. High levels could also be caused by non-cancerous conditions like infection, or an enlarged prostate.
If further investigation finds that cancer is present, treatment options will be made available. After treatment, your doctor will continue to monitor your PSA levels. If any prostate cancer cells remain after treatment they would cause a rise in the PSA.